We are thrilled to announce a partnership with Podpage! The beauty and functionality of Fusebox is now married with the creativity and simple customization of Podpage to give podcasters and their listeners the web experience they deserve.
What is Podpage?
Podpage allows podcasters to build a beautiful podcast website in just 5 minutes. Podpage automatically creates a beautiful, listener-friendly podcast site from your RSS feed. You can customize the design of the page to create a professional look you'll be proud of in a few clicks.
Even better, no coding or technical knowledge is necessary. Thousands of users have used Podpage to take their listeners' podcast experience to the next level, which is why we couldn't be more excited for Fusebox to partner with them.
Podpage has put podcasters back in control of their internet presence with the ability to easily create beautiful, easy-to-navigate websites that fit their brand and aesthetic, without having to learn to code. Podpage has figured out how to take the difficulty out of web design, while still giving podcasters the ability to customize their websites and keep ownership of their brand.
Sound familiar? Fusebox has always cared first-and-foremost about the listener and user experience – we're excited to be working with a brand that shares those same ideals of making podcasting simpler and more streamlined.
The beauty of Podpage is the ease of use and professional designs that allow Podcasters to really hone in their website to fit their audience and specific needs. Podpage levels the playing field – small podcasts have the opportunity to create a first rate experience, without the normal time and expense of building out a custom website.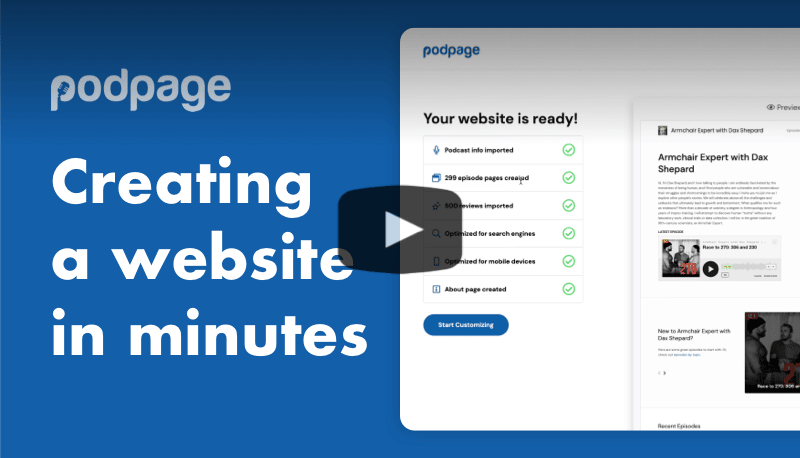 This 6-minute video walks you through the process of creating an account and starting your site on Podpage. We love a product that allows you to build a website and pull through episode and player integrations in under 10 minutes!
Podpage is essentially the answer to podcasters wishlist of webpage customization – episode pages, media players, transcripts, mailing lists, contact forms, integrations – it's all part of the platform.
If you aren't already using Podpage or want to try out an upgraded account, we're giving Fusebox users access to a special offer that can be used to try out a Podpage Pro account:
Use code FUSEBOX20 for a free month of Podpage Pro or $20 off a year of Pro (good through May 2021)