We are excited to announce another partnership with Fusebox! As our commitment grows to offer as many new integrations partnership opportunities as possible, we are excited about our partnership with Podcastpage.
With Podcastpage you have everything you need to run a podcast website, and now with the Fusebox partnership, you can use your Fusebox player natively on that site!
What is Podcastpage?
Podcastpage is built for podcasters, and offers a powerful podcast website platform with zero maintenance, installations, or other headaches.
You don't need to be a developer or write a single line of code to use Podcastpage. You can create your podcast website in 30 seconds with their user-friendly platform, all while adding unlimited custom pages and blog posts.
With Podcastpage, you can enjoy tons of features that are only available on their platform. Some of those include: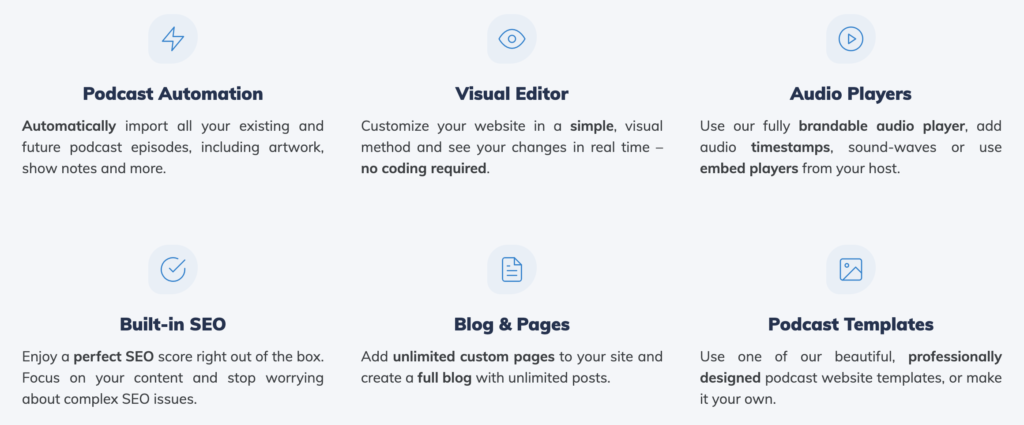 Podcastpage is trusted some of the leading podcasters from around the globe.
It's the perfect website platform for beginners and professionals alike. See how
All About The Integration
To get started with the integration, you must have both a Fusebox and Podcastpage account. (You can create a Podcastpage account for free by clicking here.)
Once your account is set up, simply head over to the "Integrations" tab on Podcastpage, and enable the Fusebox integration. It's that simple! Now your site will display the Fusebox audio player all around instead of the default audio player.
Check it out here:
If you don't already have a Fusebox account, you can get started for free right now! Simply click here to create your free account.
You can also get started with Podcastpage for free. Click here to sign up now.